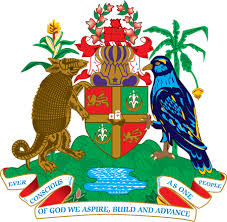 NO. 111 /2018                                                             DATE: 16th May, 2018
FINANCE MINISTER SAYS
CUSTOMS OFFICERS ARE DIPLOMATS
ST. GEORGE'S GRENADA, 16th May, 2018:Minister of Finance, Dr. the Rt. Hon. Keith Mitchell said that Custom's Officers are Diplomatic representatives since in many cases they are the first point of contact for visitors to our country.  As a result, he encouraged the Customs Management to position their most hospitable staff members at the Ports of Entry because there have been some challenges in that area, historically.
Dr. Mitchell was speaking with the Customs and Excise Division, as he continues his conversational sessions with staff under his Finance portfolio.
"You have made the country proud: Grenada would not be where it is now without your hard work and dedication," he told the staff.  According to Dr. Mitchell, for the last five (5) years, Customs has significantly surpassed every target that was set.  He congratulated them for what he described as an "excellent job," and encouraged them not be complacent, rather they should "keep striving for continuous improvement across the board."
Dr. Mitchell highlighted some of the areas for improvement in the Customs Division, which includes the need for the clearance of containers and other goods to be more guided, in order to protect the reputation of the Customs.  He added that the perception of the Division hinges on the performance and integrity of individual members of staff. The Finance Boss emphasized that wrongdoing would not be tolerated and cited staff rotation as a tool for greater efficiency. 
The Prime Minister went on to say that the government is committed to taking immediate steps to regularize high-performing workers, who have been treated unfairly by the system. 
"There is the need for a paradigm shift both on the management and staff levels; the system must be upgraded to meet the demands of the changing world environment because we cannot continue to operate in an archaic mindset if we hope to succeed at all", Dr. Mitchell said.
The Prime Minister also said that an appropriate framework to optimize revenue collection is key to supporting developmental activities for the advancement of our country.  As a result, Government is willing to go the distance by pushing the "Custom's Reform Agenda," of modernizing the division and upgrading the skill set of staff members for optimum productivity.