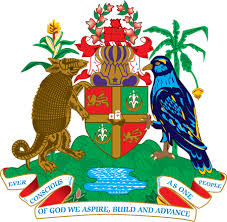 NO. 04/2016                                      DATE: February 15, 2016
SUCCESSFUL MADE IN GRENADA EXPO
ST. GEORGE'S, GRENADA Monday, February 15, 2016: The Third Annual Made in Grenada Expo, spearheaded by the Ministry of Trade and Economic Development was successfully held at the Grenada National Stadium on Sunday, 7th February 2016, as part of the Independence Day Celebrations.  The Expo was the culmination of the Buy Local Week, which is part of a long term Buy Local initiative, and ran from February 1st – February 7th, 2016.
Over sixty (60) manufacturers/agro processors displayed and sold their products to thousand of patrons who attended the Independence Day Celebrations.  The products on display ranged from nutmeg products, chocolate, pepper sauces and furniture, to dried fish.
One of the positive outcomes of the Expo was the visit by Commissioner Dale Holness from the Broward County of Fort Lauderdale, Florida.
Commissioner Holness visited on the invitation of the Minister of Economic Development and Trade, Hon. Oliver Joseph.  The Main purpose the Commissioner's visit was to get a first hand appreciation of the products made in Grenada and to extend an invitation to Grenada to participate in Florida International Trade Exposition which will be held in October this year.
For the first time the Expo attracted a number of local Authors. Some of the Authors included David Ambrose, Author the Book White Spice, and Cindy McKenzie, Author of the book Force Ripe.
The Expo came to a fitting end with fireworks late into the evening.
The Buy Local Initiative continues and Grenadians are urged to support the initiative by purchasing locally produced goods and services.
The Ministry wishes to thank the exhibitors and the general public for their participation and support shown to the Made in Grenada Expo.