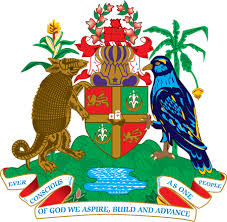 NO. 83/2017                                           DATE: 29th December, 2017
GREEN CLIMATE FUND MISSION TO GRENADA
ST. GEORGE'S GRENADA 29th DECEMBER, 2017: Grenada was privileged to host a Mission of the Green Climate Fund (GCF) during the period 15th-19th December, 2017 as part of a one week mission by the Fund to the Caribbean. Other Caribbean Countries visited during the mission includedAntigua & Barbuda, Dominica, Barbados, Grenada and Haiti.
 The objective of the Mission was to further advance the engagement of the Green Climate Fund (GCF) with Caribbean countries to build national capacity to accelerate direct access grant funding from the GCF for investments to reduce vulnerability to climate change and promote increased use of clean and renewable energy.
The GCF Team got the opportunity to meet with public and private sector officials to reviewed the draft country program and pipeline of projects and assess the country's readiness for direct access to funding for national capacity development.
The Team expressed strong commitment to building National Capacity at the institutional, technical and professional level to ensure that Grenada, and other developing countries, can take ownership for actions and investments to build resilience to climate change and reduce carbon emissions. 
 This, it is believed, will contribute to greater sustainability of these actions and ensure that the country benefit from a greater proportion of the funding provided.
The GCF Team agreed to support request from Grenada for additional funding for the following actions during 2018:
a)      To build national capacity with an annual disbursement of  US$1 million through direct access to the GCF;    A key component of this support is the setting up of a Climate Change Training Centre in Grenada in collaboration with local, regional and international institutions to provide certified training in climate change at the technical, vocational as well as professional levels.  The trainings will target persons in the public and private sectors, as well as communities and civil society actors.   The programme or courses would be accredited by a formal education centre or university and certificates from the programme/courses would be nationally, regionally and internationally recognized.
b)      To provide US$3 million to support Grenada's national mitigation and adaptation planning process and priorities for actions to reduce vulnerability to climate change and promote increased use of renewable energy.  This includes an initiative to develop the town of St. George's as the first climate resilient- smart city in the Caribbean in line with the outcome of the public-private Caribbean Climate-Smart Coalition launched in December 2017.
These actions will also support the development and implementation of three major investment programs to build resilience, and promote investments in clean energy and energy efficiency in collaboration with the private sector.
 The estimated cost of the required investments to reduce emission and build resilience to climate change in Grenada is estimated at over US$400 million.