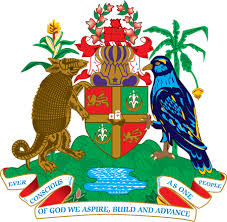 NO. 124 /2018                26th June 2018
MINISTER FOR FINANCE AND TOP STAFF ENGAGE GRENADA BANKERS' ASSOCIATION
Minister of Finance, Dr. the Rt. Hon. Keith Mitchell said that the financial sector is critical to the development of Grenada and as such, the Government will be engaging key stakeholders in the sector on a quarterly basis.
Dr. Mitchell made this disclosure on Friday, June 22, 2018, at the Republic Bank Board Room when members of the top echelon of the Ministry of Finance held fruitful discussions with the Grenada Bankers' Association (GBA).
The Association commended the Government on its stewardship of the country's fiscal affairs, and the well-established and ongoing nature of the periodic dialogue between the two entities.  In this vein, the Prime Minister solicited ideas from the grouping on how to build on the economic achievements.
The Finance team proposed ways for the GBA and the Government to work more closely in areas of national importance, such as access to credit by Small and Medium-sized Enterprises, as well as by workers (in both the public and private sectors) who are employed on contract.  The bankers indicated their willingness to work with Government in these and other areas of mutual interests.
To this end, the Bankers' Association said they are fully behind the Inland Revenue's Reform Agenda since they believe that tax compliance and enforcement, including measures for the annual payment of Property Taxes, can be mutually beneficial.
The government and the GBA have decided to work together on mechanisms to strengthen tax compliance and close loopholes in an effort to minimize revenue leakages for Government and strengthen credit compliance for banks.
END…